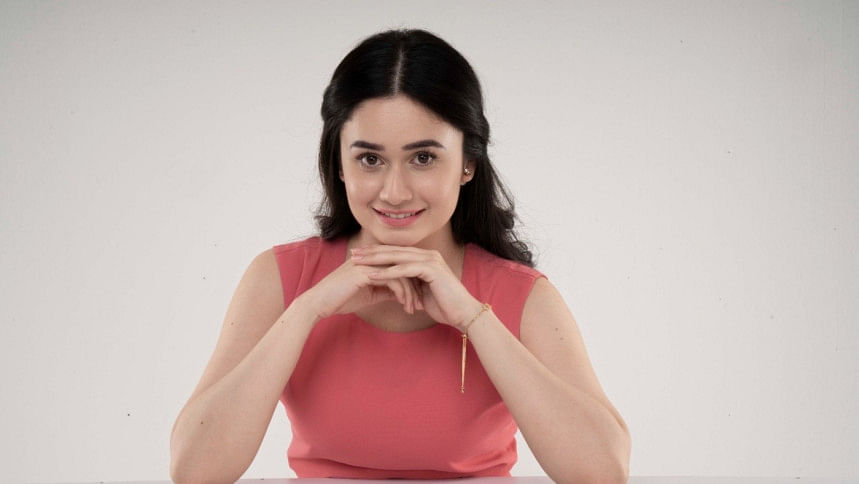 Former Miss World Bangladesh 2018 winner Jannatul Ferdous Oishee has made her way into showbiz with her glamourous look and mesmerising persona. Her film "Mission Extreme" released in 2021, and received positive reviews from the audience.
Now, she is all set for the release of its sequel, "Black War", which marks the third released film of her career.
What's your resolution for the new year? 
May this new year bring happiness and prosperity to everyone's life. Life is a mixture of happiness and sorrow. Even so, let happiness prevail for everyone, and I hope that Covid never returns to Bangladesh.
"Black War" is releasing this month. How are you feeling?
I am waiting for the reviews from the audience. It's one of my favourite films that I am a part of, and the director has made the film with utmost care. We are expecting a lot from this film because everyone has given their best.
Tell us about your role in this film.
I will play the role of a working woman. However, I don't want to disclose anything right now. I want to keep it as a surprise for the audience, as my hard work will pay off if the audiences watch the film in theatres.
How was 2022 for you?
It has been good. Although my mother was sick for a time, I bore the entire cost of her treatment. This is a wonderful feeling as a daughter when you can take care of your parents. Although I am the youngest child, I always wanted to take responsibility of my family.
When was the last time you went to theaters to watch a film? 
Few days back, I went to watch Avatar: The Way of Water in the theatre with my niece. This was her first time watching a film in theatres. I felt happy to witness such an important moment in her life.
Tell us about your co-actor, Arifin Shuvoo.
It's a blessing to have such a brilliant co-artiste in any project. He helps me a lot in the shooting set. He always supports me in everything.
How do you start your morning?
I try to wake up early in the morning and meditate. It makes me feel positive and fresh.